Indoor 86 temperature humidity sensor with smart alarm
RS-WS-*-1-* is an indoor temperature and humidity sensor, beautiful and compact to install indoors. This room temperature and humidity sensor have an LCD, which can display in real-time. There are five buttons that can be used to adjust the temperature and humidity range, alarm, etc. There is screw-free terminal wiring on the back of the temperature and humidity sensor, easy to install.
Model: RS-WS-*-1-*
MOQ: 1 PCS
Delivery date: within 24 hours
Price: $19.5
Description
Parameters
Application
FAQ
Description
The appearance size of this small indoor temperature humidity sensor is: length 86mm x width 86mm, this design greatly reduces the space occupied by it in the indoor installation. The transmitter features an integrated display, compact size, and integrated mounting options. Each smart temperature humidity sensor can be used as an independent temperature and humidity monitor, or it can be uploaded to a unified monitoring platform through 485 wirings to monitor the temperature and humidity in multiple regions in real-time. The user can modify the address and baud rate through the configuration software, and set the upper and lower limit values.
Classification of RS-WS-*-1-* cheap temp and humidity sensor: temperature sensors, temperature sensors with external probes, temperature and humidity sensors, temperature and humidity sensors with external probes.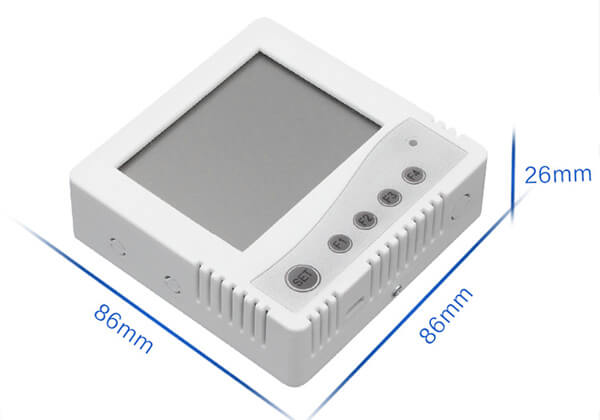 smart life temperature and humidity sensor features:
1. Standard square shell, large LCD display, beautiful and generous.
2. The wiring terminal adopts a military-grade spring-type screw-free terminal, which can be connected by pressing and plugging. Even if there is no screwdriver, the wire can be quickly connected on site. The wire diameter can be 0.3~2.0mm2.
3. Using high-precision temperature and humidity measurement unit, on-site self-calibration, good long-term stability, small drift.
4. There are two output modes to choose from, analog output temperature and humidity sensor, RS485 output temperature and humidity sensor.
5.10~30V DC wide voltage range power supply.
6. The built-in extension of the probe is optional, the built-in type of the probe is simple and convenient to install, and the extension type of the probe is optional. A variety of probes can be used on different occasions. The probe line can be up to 30 meters long.
7. Buttons can set parameters, easy to operate.
Other related blogs:
Temperature And Humidity Sensor Definition, Calibration, And Top10 Best Choose
How To Choose The Right Temperature And Humidity Sensor?
What Are The Types Of Temperature And Humidity Sensor Probes?
Parameters
Application
FAQ