LCD temperature humidity display panel
RS-WS-*-K1 is a digital temperature humidity display panel. The circuit adopts American imported industrial-grade microprocessor chips and imported high-precision sensors to ensure the excellent reliability, high precision, and interchangeability of the products. The appearance of the temperature display adopts an aluminum alloy frame, high-quality acrylic panel, the display is clear, beautiful, and generous.
Model: RS-WS-*-K1
MOQ: 1 PCS
Delivery date: within 24 hours
Price: $59.3~$69
Description
Parameters
Application
FAQ
Description
About temperature humidity display board:
Our this big temperature humidity display panel has two sensor type is Internal or external sensor (different models). If you want to install outside a cold storage room, the display has to be mounted outside the cold room and the external sensor has to be inserted into the cold room. The display is visible from a distance of up to 50 meters. These are mainly for indoor applications with an ingress protection level of IP65.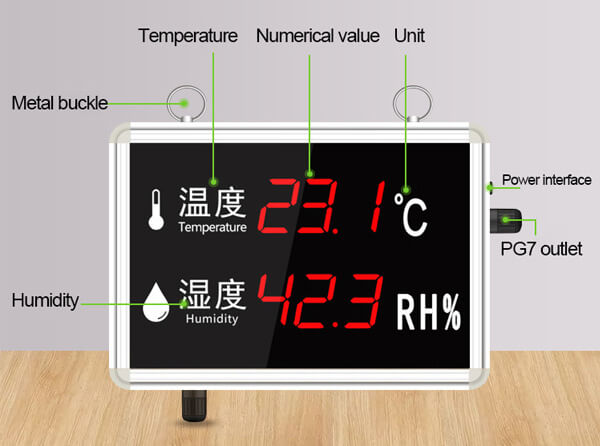 Temperature humidity display board features:
1. Using sensors imported from Switzerland, the measurement accuracy is high, and the performance is stable and reliable.
2. Using a large-size high-brightness digital tube, it can still be displayed clearly under strong light.
3. The frame is made of high-hardness aluminum alloy, which is waterproof and dustproof, firm, and reliable.
4. It adopts a dedicated analog output circuit, a standard industrial interface, and a wide range of use.
5.10-30V DC wide voltage power supply.
Related blogs:
1.Temperature And Humidity Sensor Definition, Calibration, And Top10 Best Choose
Parameters
Application
FAQ
Temperature display panel video
This big temperature humidity display uses 10~30V power supply, and the shell is made of stainless steel, which is sturdy and durable. It can be installed in offices, supermarkets, laboratories, farms and other places. The measurement data can be read directly through the LCD display, or log in to the free cloud platform provided by our company to view or export historical data.