LCD temperature humidity display panel
RS-WS-*-K1 is a digital temperature and humidity display. The circuit adopts American imported industrial-grade microprocessor chips and imported high-precision sensors to ensure the excellent reliability, high precision, and interchangeability of the products. The appearance of the temperature display adopts an aluminum alloy frame, high-quality acrylic panel, the display is clear, beautiful, and generous.
Model: RS-WS-*-K1
MOQ: 1 PCS
Delivery date: within 24 hours
Price: $59.3~$69
Description
Parameters
Application
FAQ
Description
About temperature humidity display board:
Two sensor type is Internal or external sensor (different models). If you want to install outside a cold storage room, the display has to be mounted outside the cold room and the external sensor has to be inserted into the cold room. The display is visible from a distance of up to 50 meters.
These are mainly for indoor applications with an ingress protection level of IP65.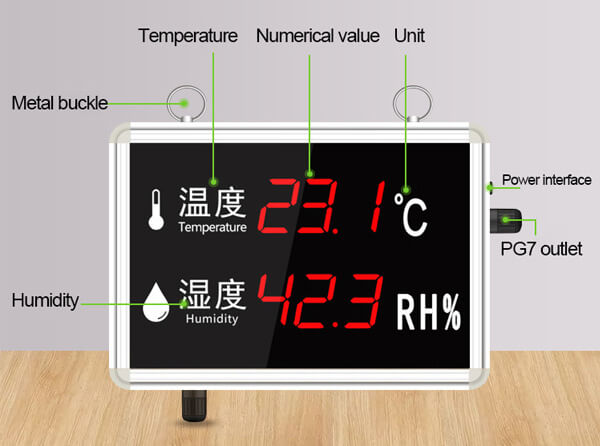 Temperature humidity display board features:
1. Using sensors imported from Switzerland, the measurement accuracy is high, and the performance is stable and reliable.
2. Using a large-size high-brightness digital tube, it can still be displayed clearly under strong light.
3. The frame is made of high-hardness aluminum alloy, which is waterproof and dustproof, firm, and reliable.
4. It adopts a dedicated analog output circuit, a standard industrial interface, and a wide range of use.
5.10-30V DC wide voltage power supply.
Parameters
Application
FAQ