what is a weather station? the weather station also called a weather center, is a device that relies on a variety of different types of sensors to collect information related to the weather and the environment. These data are uniformly sorted through an environmental monitoring host and uploaded to the customer's platform or app for user analysis and decision-making. According to different usage scenarios, it can be divided into different types of weather stations, such as agricultural weather stations, industrial weather stations, airport weather stations, school weather stations, marine weather stations, home weather stations, etc. According to different output signals, it can be divided into Modbus weather stations, analog weather stations, network weather stations, etc.
Agricultural weather station
Agricultural weather stations are commonly found in farms, pastures, and other places with sparsely populated places.
Features: Wide measurement space, complete measurement elements, remote monitoring, over-limit alarm, easy maintenance, no wiring required.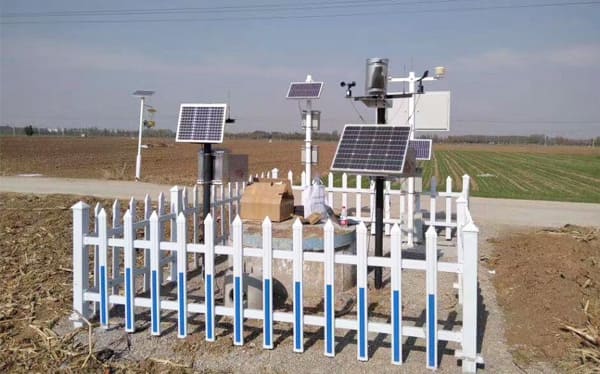 Farm weather stations and pasture weather stations generally need to measure the following elements in order to ensure the production of crops to achieve scientific breeding:
Temperature and humidity
Wind speed and wind direction
CO2 concentration
PM2.5 PM10
Noise
Solar radiation
Sunlight
Ultraviolet light
Atmospheric pressure
Rainfall
Rain and snow
Soil temperature humidity and EC
Soil nitrogen, phosphorus, and potassium
Soil ph
Users can choose to fix a pole on flat open ground, install various sensors on the upper part of the pole according to their needs, and match the solar panels and batteries under the sensors to meet the electricity consumption of the weather station, so that no external power supply is needed, Reduce the trouble of wiring and facilitate remote monitoring. If possible, it is not necessary to add solar panels and batteries, and directly connect the weather station host to external household electricity.
Industrial weather station
In industrial production, the ability to accurately monitor, evaluate and record surrounding weather conditions is essential to improve operational efficiency and productivity, minimize downtime and management costs, and resolve complaints or lawsuits. Generally, the following elements need to be measured:
Temperature and humidity
Atmospheric pressure
Rain and snow
Rainfall
illumination
Ultraviolet rays
Solar radiation
Particulate matter concentration
CO2 concentration
Wind speed and direction
The following is an upgraded industrial weather station with a high-strength pole structure, a variety of sensors for integration, a higher level of protection, and easier installation.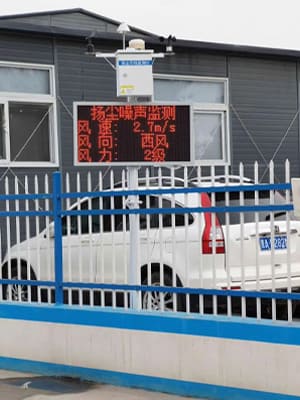 Airport weather stations are remote automated weather station sensor suites which are designed to serve aviation and meteorological operations, weather forecasting. Common measurement elements include:
Wind speed and direction
Atmospheric pressure
Rainfall
Rain and snow
Noise
Temperature and humidity
Illumination
Solar radiation
Particulate matter concentration
The airport automatic weather station is designed and implemented based on the latest sensor technology and modern communication means. It has complete functions such as calibration, fault detection, status management, power supply guarantee, lightning protection, and safety measures; it is a fully configurable airport weather system that can provide continuous real-time weather data for pilots, airport authorities, and managers And report.
The school weather station is the most direct tool for students to contact and understand the weather. It provides convenience for education, and any school should be equipped with a weather station. Therefore, it is very important to find a weather station with high practicability, simple operation, and beautiful price.
The RS-QXZN-M4-DC-12-G weather station is a small weather station for schools. It can choose different sensors according to the needs of students, or choose different installation methods according to different places. Students can experience a series of operations from the assembly, wiring, application, to data query.
The measurement elements include:
Wind speed and direction
Temperature and humidity
Atmospheric pressure
illumination
noise
PM or CO2
precipitation
The boat weather station is mainly installed on the bow to measure the current environment's wind speed and direction, temperature and humidity, atmospheric pressure, noise, and other factors. Accurate measurement, low power consumption, anti-magnetic interference, and reliable reliability under extreme conditions make our ultrasonic weather station an ideal choice for marine weather monitoring in most places on the earth.
Home weather stations also called personal weather stations, these can range from very simple indoor comfort monitors to much more complex stations. Temperature and humidity provide basic readings of indoor conditions and display this information digitally. Besides, home weather station can access additional resources like the National Weather Service and crowd-sourced weather resources to increase measuring.
The measurement elements are:
Temperature and humidity
Wind speed and direction
Rainfall
Barometric pressure
Date and time
Outdoor Trend Indicators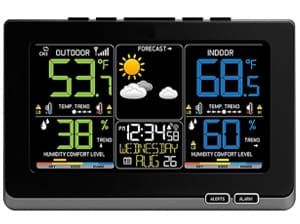 Modbus weather station is a weather station system that uses Modbus protocol for signal transmission.
The Modbus protocol includes ASCII, RTU, TCP, etc., and does not specify the physical layer. This protocol defines the message structure that the controller can recognize and use, regardless of the network through which they communicate. The standard Modicon controller uses RS232C to implement serial Modbus. Modbus's ASCII and RTU protocols stipulate the structure of messages, data, commands, and answering methods. The data communication adopts the Maser/Slave method. The Master sends a data request message. After the Slave receives the correct message, it can send the data to the Master. In response to the request; the Master can also directly send messages to modify the data on the Slave to achieve bidirectional reading and writing.
The analog weather station has a unique design that can be integrated with home decoration, and at the same time provides you with intuitive weather and environmental changes.
The network weather station generally refers to the way the equipment uploads data via GPRS/4g or wifi signal.
Network weather stations includes GPRS/4G weather stations and wifi weather stations.