What is air quality monitoring?
Air quality monitoring refers to the continuous measurement of pollutants present in the air at specific locations. To monitor the air, several monitoring stations are typically established in a city to continuously track air quality. The results of this monitoring are analyzed to assess air quality.
The numerical values associated with air quality reflect the concentrations of pollutants in the air. Air pollution is a complex phenomenon influenced by various factors at different times and locations. The primary reasons affecting air quality are emissions of both stationary and mobile human-made pollutants, including vehicle emissions, ship and aircraft exhaust, industrial emissions, residential heating, and waste incineration. Factors such as urban development, topography, weather, and meteorological conditions also play a significant role in influencing air quality.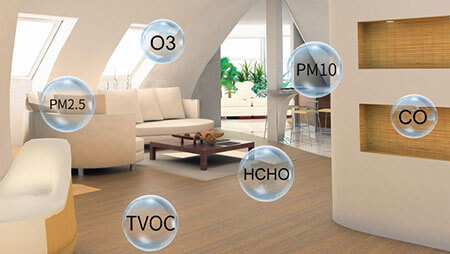 The main substances monitored in air quality monitoring include sulfur dioxide, nitrogen monoxide, hydrocarbons, particulate matter, and more. Air monitoring forms the foundation for controlling atmospheric quality and making rational assessments of air quality.
Why air quality monitoring is important?
Poor air quality can have various negative impacts. In the past, people may not have been proactive in monitoring air quality. They only paid attention to air quality issues when they noticed unusual odors in the air causing discomfort. However, by that time, polluted air may have already caused harm to their health. The importance of air quality monitoring lies in providing real-time information about air quality conditions and taking appropriate measures to protect people's health and improve environmental quality. Through air quality monitoring, the public can be alerted to air pollution, helping them avoid prolonged exposure to polluted environments that could harm their health.
How to monitor air quality?
Outdoor air pollution is invisible and cannot be touched. Air quality sensors maintained by environmental protection agencies or other organizations can effectively monitor the air quality in specific areas and display it to the public through public channels. They can provide information on the current air quality, and some services can even forecast air quality for the upcoming hours and days.
The Air Quality Index (AQI) is a metric developed by government agencies to communicate the level of pollution in the air to the public, either the current pollution level or a forecasted one. It is a numerical scale ranging from 0 to 500, indicating the safety of breathing outdoor air. These numbers are divided into different categories and come with recommendations on how to stay safe. As air pollution levels increase, the Air Quality Index (AQI) and associated public health risks also rise. Different countries may have their own air quality indices corresponding to their specific air quality standards. For example, Canada uses the Air Quality Health Index (AQHI), which provides a scale of 1 to 10+ to indicate health risk levels associated with local air quality. The European Union uses the Common Air Quality Index (CAQI), which is a scale from 1 to 100.
United States Air Quality Index(AQI)
| AQI | Health | Color |
| --- | --- | --- |
| 0-50 | Good | Green |
| 51-100 | Moderate | Yellow |
| 101-150 | Unhealthy for sensitive groups | Orange |
| 151-200 | Unhealthy | Red |
| 201-300 | Very unhealthy | Purple |
| 301-500 | Hazardous | Maroon |
| 501-1000 | Very Hazardous | Brown |
The culprits leading to a decline in indoor air quality can be various factors, ranging from excessive dust to high humidity, and from household cleaning agents to emissions from building materials. Prolonged exposure to such low-quality air can have adverse effects on our health. Therefore, we need a reliable indoor air quality monitor to provide real-time air quality data. Here are the top three indoor air quality monitors.
1. Renke MS111---The best multi-function air quality monitor
The MS111 air quality monitor biggest advantage is its ability to monitor a wide range of air parameters. It is compact in size and won't take up too much space. It features a built-in large LCD screen for easy display. It can detect various elements in the air, including temperature, humidity, PM2.5, PM10, TSP, noise levels, TVOC (Total Volatile Organic Compounds), CO2, formaldehyde (HCHO), O3, CO, CH4, O2, SO2, NO2, H2, H2S, NH3, and more, with the capability to integrate up to 11 different measurement elements simultaneously. With just one MS111 air quality montior, you can monitor multiple indicators that reflect air quality. It can be used not only indoors but also for outdoor monitoring of atmospheric pressure and light levels.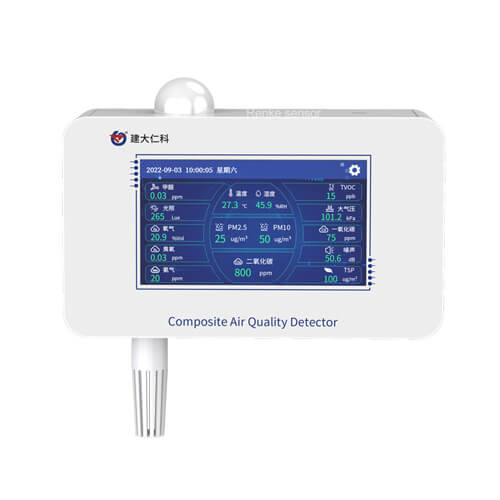 The MS111 air quality monitor features a white rectangular casing and maximizes the capabilities of smart home multitasking. It not only includes multiple built-in sensors but also allows users to select the specific parameters they want to monitor as needed. Measurement results can be displayed over the network on computers and smartphones.
This air quality monitor combines the functions of a thermometer and a weather station. You can conveniently obtain information about indoor air quality, time, and weather forecasts from this device. It can monitor and manage up to 8 air quality sensors on a single device. It measures CO2, PM2.5, PM10, AQI (Air Quality Index), temperature, humidity, weather forecasts, as well as date and time. You can view your air quality data anytime, anywhere using the free Temptop app (available for iOS/Android) via Wi-Fi (2.4 & 5GHz). Historical data can be exported to a computer via a USB data cable. It also provides alerts when the air quality is poor. You can view charts or export data to track and analyze air quality over time. The M100 air quality monitor is well-received in the market due to its excellent value for money.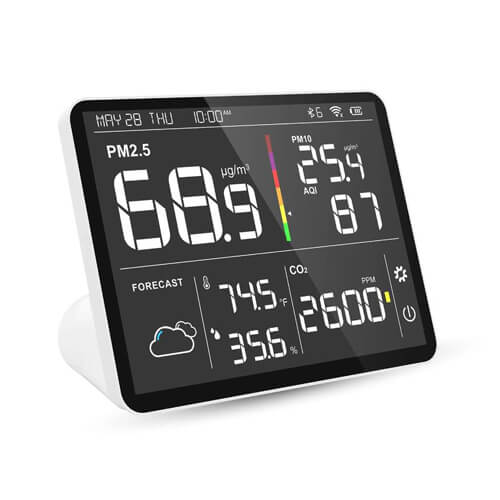 The Airthings Wave Plus is an aesthetically pleasing, battery-powered air quality monitor. It features 6 sensors for monitoring radon, CO2, TVOC (Total Volatile Organic Compounds), temperature, humidity, and air pressure. It provides a non-contact color-coded indicator for overall air quality. This air quality monitor offers comprehensive data on your smartphone through the free Airthings Wave app. You can set alerts based on real-time data, receive air quality measurements, issue voice commands, and connect it to smart plugs or smart devices to control thermostats, air purifiers, or humidifiers. It's a great choice for bedrooms and home offices where you need air quality to support restful sleep and concentration.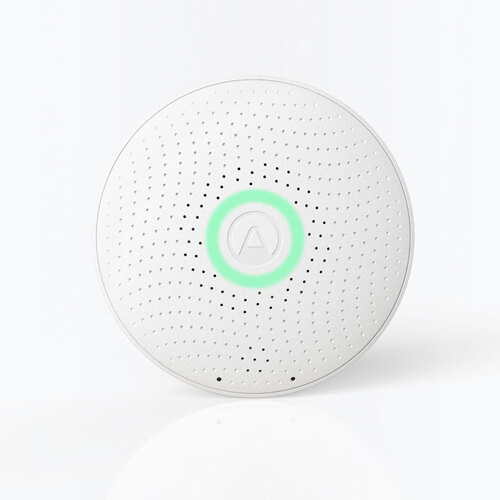 Unlike indoor environments, industrial workshops and factories often have higher concentrations of pollutants due to production and manufacturing processes. Moreover, industrial settings typically have a wider variety of pollutants compared to indoor environments. Therefore, when choosing an air quality monitor for industrial use, it's essential to select an instrument that is suitable for high concentrations, is highly responsive, and can measure a wide range of pollutants.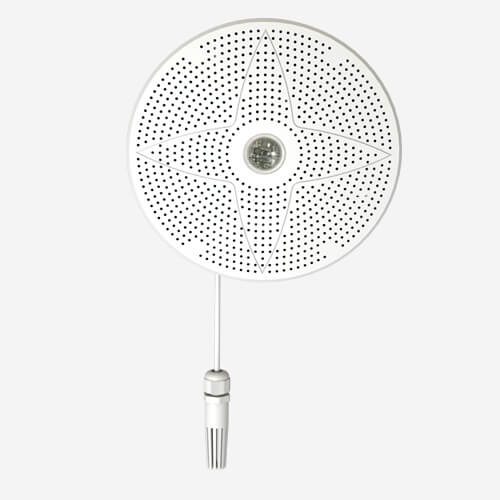 The Renke MG111 AQI sensor is an air quality monitor designed for industrial settings. It can measure up to 11 different air quality parameters and is responsive to wide fluctuations in pollutant concentrations. Its overall appearance is that of a white disc with an extended probe. Inside the probe, there are temperature and humidity sensors for measuring environmental temperature and humidity. Separating the temperature and humidity sensor from other air quality sensors helps prevent interference and ensures more accurate results. The white casing has ventilation holes, which allow for the diffusion of air while protecting the sensors from dust and moisture, enhancing durability and accuracy.
What is air quality monitoring system?
An air quality monitoring system is an integrated device used to monitor the real-time air quality in a specific area, including the concentrations of various pollutants such as particulate matter, nitrogen oxides, sulfur dioxide, carbon monoxide, ozone, and more. It collects and analyzes this data to assess the environmental health conditions and formulate air quality improvement strategies.
Advantages of air quality monitoring system
Environmental Assessment: The data provided by the system can be used to assess the air quality and environmental health conditions in a specific area.
Policy Formulation: By analyzing the data collected by the system, environmental organizations can understand which measures are effective and where improvements are needed, enabling the formulation of more effective environmental protection policies.
Public Awareness: By making the data from the system publicly available, the general public can gain insights into the air quality in their region and take appropriate protective measures.
Scientific Research Support: These data can also provide valuable information for scientific research, helping scientists better understand the sources and impacts of air pollution.