This pm sensor mainly adopts a wall-mounted installation method to detect the concentration of PM2.5 and PM10 in the room. The shell is made of high-strength waterproof material, which is not easily interfered with by water vapor and smoke in the air. This is an industrial cheap air quality sensor with high measurement accuracy and a wider range of use.
Model: RS-PM-*-2
MOQ: 1 PCS
Delivery date: within 24 hours
Price: $67
Description
Parameters
Application
FAQ
Description
PM sensor explanation:
The working principle of the RS-PM-*-2 industrial pm2.5 pm10 sensor is: using the principle of laser scattering measurement, sieving through the unique dual-frequency data acquisition technology to obtain the equivalent particle size of the particulate matter per unit volume The number of particles, and the scientific and unique algorithm calculates the particle mass concentration of the equivalent particle size per unit volume. This pm2.5/pm10 sensor uses a 10-30V wide voltage power supply, with RS485, 4-20ma, 0-5v, 0-10v, and other output methods.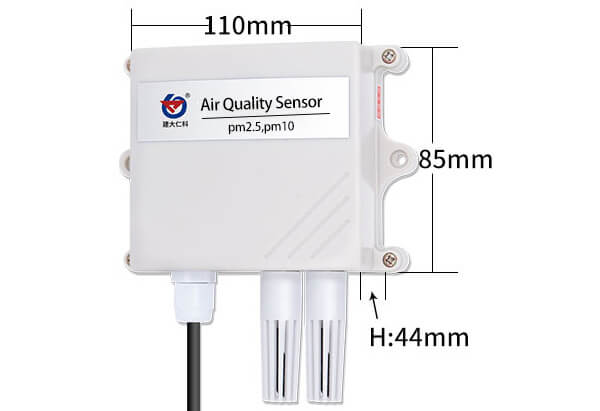 Air quality sensor features:
1. Range: 0-1000ug/m3, resolution 1ug/m3.
2. PM2.5 and PM10 are output at the same time.
3. Unique dual-frequency data acquisition and automatic calibration technology, the consistency can reach ±10%.
4. Long service life, the overall warranty is 2 years in a normal environment.
Advantages of Renke pm2 5 air quality sensor
1.Renke pm sensor can long-term uninterrupted monitoring of PM2.5 and PM10, accurate and stable performance. Supporting mobile phones and PC to check the data at any time. Very convenient for customers.
2.It can be used stand-alone or as the foundation of an OEM indoor air quality PM detector. Multiple devices can use the PC platform or mobile phone app to remotely and centrally monitor at the same time.
3.We are an OEM manufacturer, so we can offer you the best air quality sensor price. We have big in stock, can ship immediately. If you are confused about which iot air quality sensor to choose, we can assist you in finding the right sensor for your requirements. Contact us!
4.We provide customized services. In addition to this air quality sensor, we also have AQI sensor, outdoor air quality sensor, multi-gas detector and other options.
Parameters
Application
FAQ
This air quality sensor adopts wall-mounted installation, and the overall shell is made of abs waterproof material, which can be used in harsh environments. At the bottom are two external probes, one measuring PM2.5 concentration and the other measuring PM10 concentration.