Best lcd temperature humidity sensor for wall mount
LCD temperature humidity sensor is a wall-mounted temperature and humidity instrument with key functions. The upper limit of temperature and humidity can be adjusted through the four buttons at the bottom of the display screen, alarm value can be set and calibration can be done manually. The large LCD screen can display the temperature and humidity values in real-time.
Model: RS-WS-N01-2C-*
MOQ: 1 PCS
Delivery date: within 24 hours
Price: $30.4~$36.7
Description
Parameters
Application
FAQ
Description
LCD temperature humidity sensor description:
The wall-mounted temperature humidity sensor with display adopts standard MODBUS-RTU communication protocol, RS485 signal output, and the maximum communication distance can reach 2000 meters. The built-in probe is used by default, and the extension probe can also be used if necessary.
LCD display temperature humidity sensor features:
1. The housing of the temperature-humidity sensor is made of white ABS waterproof plastic material, equipped with a full-screen large LCD, and the installation is beautiful and generous.
2. The temperature humidity sensor uses a high-precision temperature and humidity measurement unit, which can be self-calibrated on site, and has good long-term stability.
3. 10~30V DC wide voltage range power supply
4. The built-in extension of the probe is optional. The built-in type of probe is easy and convenient to install. The extension type of the probe can be used in different applications. The probe cable can be up to 30 meters long.
5. The temperature and humidity device itself has buttons to set parameters, which is easy to operate.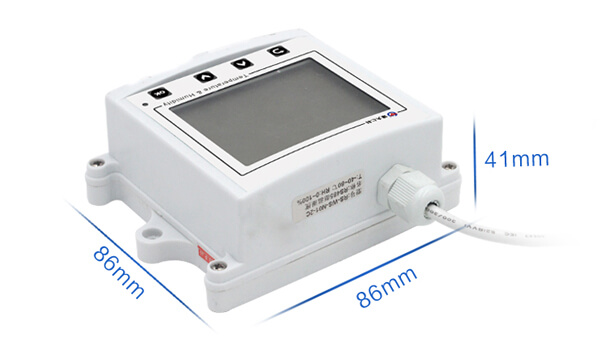 Parameters
Application
FAQ