Modbus rtu temperature humidity sensor
RS-WS-N01-8 is a smart hygrometer and thermometer. The housing of the modbus temperature sensor is made of abs plastic with vents, and there is a slot on the back, which can be directly installed on the rail. There are four wiring terminals at the lower end of the temperature and humidity sensor, which are connected to the power line and the 485 lines respectively. RS-WS-N01-8 sensor adopts standard Modbus-RTU communication protocol, supports Kingview, 3D force control, MCGS Kunlun configuration software configuration screen, PLC, user-developed platform.
Model: RS-WS-N01-8
MOQ: 1 PCS
Delivery date: within 24 hours
Price: $12
Description
Parameters
RS485 protocol
FAQ
Description
RS-WS-N01-8 is a popular Modbus RTU temperature sensor produced by our company. We are a source manufacturer with more than 10 years of experience. Under the same quality conditions, our wholesale price can save 20% of your budget. We can also provide customized services according to customer needs and support customers' secondary development. Free technical support, free cloud platform to achieve real-time remote monitoring. Use in a normal environment to provide 2 years warranty, in stock, can be shipped immediately. Inquiry us now!
About Modbus RTU temperature and humidity sensor:
1. The sensor adopts an integrated design with a built-in temperature and humidity measuring element, and the overall appearance is small and exquisite, which is suitable for installation in a small place to measure temperature and humidity.
2. The Modbus RTU temperature humidity sensor has pluggable wiring terminals, easy to install, and easy to maintain during use.
3. High-quality measurement unit imported from Switzerland, accurate measurement.
4. 10~30V wide voltage range power supply, complete specifications.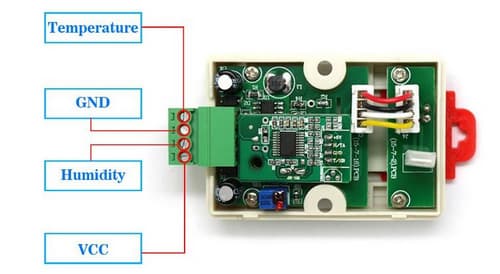 Related blogs:
Temperature And Humidity Sensor Definition, Calibration, And Top10 Best Choose
Parameters
RS485 protocol
FAQ