Aluminum Wind Direction Sensor
The aluminum wind direction sensor is used to measure the wind direction in the outdoor environment, measuring the 8 directions and 16 directions of east, south, west, north, southeast, southwest, northwest, and northeast. It can output Modbus signal, voltage, and current three kinds of signals according to demand.
Model: RS-FX-*
MOQ: 1 PCS
Delivery date: within 24 hours
Price: $33.5~$35.6
Description
Application
Blogs
Description
Aluminum wind direction sensor features:
1. Aluminum wind direction measuring range is 8 directions
2. The inside of the sensor has been treated to prevent electromagnetic interference
3. Using high-performance imported bearings, low rotation resistance, accurate measurement
4. All aluminum shell, high mechanical strength, high hardness, corrosion resistance, no rust, and long-term use outdoors
5. The structure and weight of the equipment have been carefully designed and distributed, with a small moment of inertia and sensitive response
6. A wide range of output signals, such as RS485, 0-5V, 0-10V, 4-20mA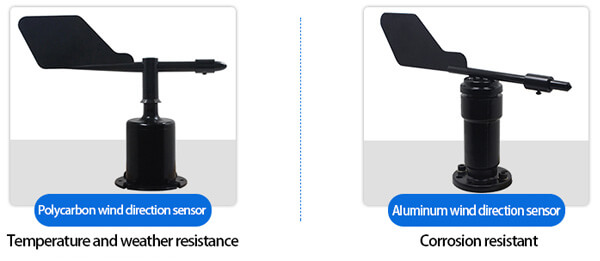 This aluminum wind direction sensor is small and lightweight, easy to carry and assemble, and the new design concept can effectively obtain wind direction information. The shell is made of high-quality aluminum alloy profiles, and the outside is electroplated and sprayed. It has good anti-corrosion and anti-corrosion characteristics, which can ensure that the transmitter is used for a long time without rusting. At the same time, it is matched with the internal smooth bearing system to ensure information collection Accuracy.
Wind direction sensor, wind speed sensor, rain and snow sensor, illuminance sensor, UV sensor, negative oxygen ion detector, atmospheric pressure sensor, rain gauge, evaporation sensor, solar radiation sensor, solar radiation shield, soil sensor, etc. constitute a weather station monitoring system.
Application
Blogs
Aluminum wind direction sensor
Material: aluminum alloy
For: Wind direction sensor/weather station
Measuring range: 8 orientation
Accuracy: 1 position
Starting wind speed: ≤0.5m/s
Power supply: 10~30VDC
Output form: current 4~20ma voltage 0~5V 0~10V RS485
Instrument line length: standard: 0.7 meters
Load capacity: current type resistance≤600Ω Voltage type resistance≤250Ω
Working environment: -40℃~ 60℃, 0%RH~80%RH
Protection level: IP65
Aluminum wind direction sensor faq