Polycarbon Wind Speed Sensor
Our wind speed sensor, small and light, easy to carry and assemble. The three-cup design concept can effectively obtain wind speed information. The shell is made of polycarbonate composite material, which has good anti-corrosion and anti-corrosion features, which can guarantee the long-term use of the anemometer is free from rusting, and the internal smooth bearing system ensures the accuracy of information collection.
Model: RS-FSJT-*
MOQ: 1 PCS
Delivery date: within 24 hours
Price: $27.25~$29
Description
Parameters
Application
标签标题
Description
How wind speed sensors work
When the wind generated by the airflow drives the sensor to rotate, the central axis drives the internal sensing element to generate a pulse signal. Within the wind speed measurement range, the wind speed has a certain linear relationship with the pulse frequency. The wind speed can be calculated accordingly. The protection level of the wind speed sensor is IP68, even if it is used outdoors for a long time, it can be effectively waterproof and moisture-proof.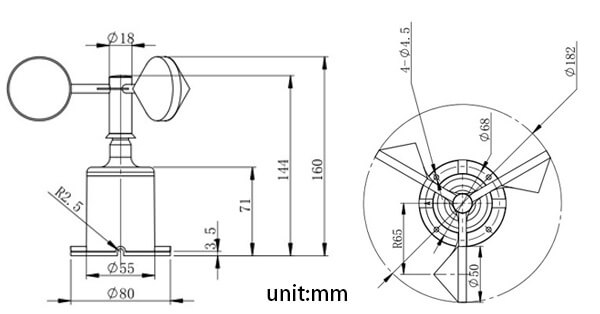 Wind speed sensor features
1. Measuring range: 0-70m/s, resolution 0.1m/s.
2. Internal anti-electromagnetic interference treatment.
3. The bottom outlet method is adopted to eliminate the aging problem of aviation plug rubber pads, and it is still waterproof after long-term use.
4. Using high-performance imported bearings, low rotation resistance, accurate measurement.
5. Polycarbonate shell, high mechanical strength, high hardness, corrosion resistance, no rust, and long-term use outdoors.
6. The structure and weight of the equipment are carefully designed and distributed, with a small moment of inertia and sensitive response.
7. Multiple output modes are optional: RS485, 0-5V, 0-10V, 4-20mA, or pulse output.
Parameters
Application
标签标题