Polycarbon Wind Direction Sensor
The wind direction sensor is a physical device that detects and feels the wind direction information from the outside by the rotation of the wind direction arrow and transmits it to the coaxial encoder, and at the same time outputs the corresponding wind direction related value.
Model: RS-FXJT-*-*
MOQ: 1 PCS
Delivery date: within 24 hours
Price: $26.8~$28.9
Description
Advantages
Blogs
Description
Wind direction sensor features
The wind direction sensor is composed of a wind cup, sensor body, circuit module, transmission cable, and other devices. The wind cup of the wind direction sensor is usually made of high weather resistance, high strength, corrosion resistance, and waterproof metal; the sensor body is generally formed of aluminum-magnesium alloy, and the internal circuit is sprayed with three anti-paint treatment, which can adapt to harsh environments. The circuit module has extremely reliable Anti-electromagnetic interference ability and high and low voltage protection ability can ensure that the host can work normally in the environment of -20℃~60℃ and humidity 10%~95%.
According to the output mode of the wind direction sensor, there have five types of wind direction sensors: wind direction sensor 4-20ma, wind direction sensor 0-5v, wind direction sensor 0-10v, wind direction sensorrs485, and wind direction sensor pulse.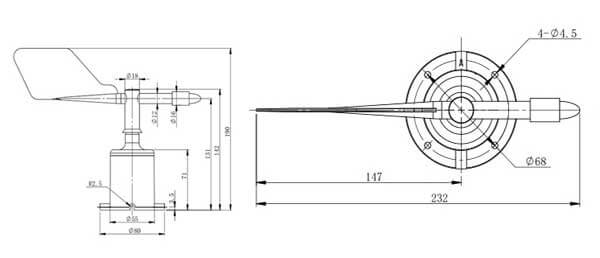 1. Our 360 degree wind direction sensor range is 0~359.9 degrees, the wind direction sensor is small and light, easy to carry and assemble.
2. Anti-electromagnetic interference treatment.
3. Using high-performance imported bearings, low rotation resistance, accurate measurement.
4. Polycarbonate shell, high mechanical strength, high hardness, corrosion resistance, no rust, and long-term use outdoors.
5. The structure and weight of the equipment have been carefully designed and distributed, with a small moment of inertia and sensitive response.
6. There are multiple output modes to choose from, such as analog, RS485, and pulse.
7. Wind direction sensor, wind speed sensor, rain and snow sensor, rain gauge, illuminance sensor, UV sensor, solar radiation sensor, solar radiation shield, soil sensor, etc. form a complete weather station monitoring system.
Advantages
Blogs
Wind direction sensor parameters
Power supply: 10 ~ 30V DC
Measuring range: 0~359.9 degree
Working Temp: -20℃~+60℃, 0%RH~80%RH
Response speed: ≤ 0.5s
Output signal: RS485/0-5V/0-10V/4-20ma
Protect level: IP65
Material: Polycarbonate
Package size: 26*24*13cm, 0.3kg
Wind direction sensor types