This RS-WS-N01-YM-1 leaf wetness sensor is standardized, calibrated, and designed to detect wetness and ice after installation. With denser leaf vein patterns on the surface, smaller droplets can be detected and the measurement is more sensitive. The sensor surface coating is non-hygroscopic, eliminating false wetness detection.
Model: RS-WS-N01-YM-1
MOQ: 1 PCS
Delivery date: within 24 hours
Price: $31.5
About Renke Leaf Wetness Sensors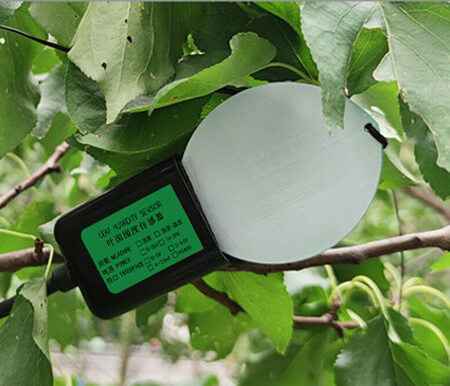 This leaf surface wetness sensor working principle is to measure wetness through the change of the leaf surface dielectric constant. With good sensitivity, it can detect trace water or ice residues on the surface of leaves. The appearance is completely waterproof and can be used outdoors for a long time. Easy to use, widely used in greenhouses, laboratories, breeding, production environments, artificial climate rooms, and other plants or object surface humidity measurement.
1. Simulate the surface characteristics of real leaves, quickly and accurately measure temperature and wetness.
2. The denser leaf vein patterns (15 lines/cm) can detect smaller droplets and the measurement is more sensitive.
3. High precision, fast response, and good interchangeability.
4. Epoxy resin encapsulation, waterproof and moisture-proof, IP67 protection level, long using life.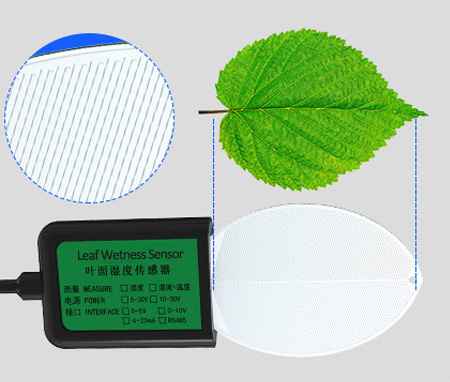 Power supply: DC 5-30V
Maximum power consumption: 0.75W (12V DC power supply)
Working temperature: -40℃~+60℃
Temperature
Range: -40~80℃
Accuracy: ±0.5℃ (@25℃)
Resolution: 0.1℃
Wetness
Range: 0-100%RH
Accuracy: ±5%RH (@25℃)
Resolution: 0.1%RH
Protection level: IP67
Sealing material: black flame-retardant epoxy resin
Cable length: 2 meters, can be customized
Size: 45*15*123mm
Output signal: RS485