Multi Channel Temperature And Humidity Data Logger
The RS-WS-WIFI-Y is a multi-probe wireless industrial-grade temperature and humidity transmitter, which can upload up to 4 channels of temperature and humidity data collected to the server via WIFI. Wirelessly pair multiple network connection units to a single base station via WiF, and store your temperature or humidity readings in the cloud. Multi channel temperature data logger has 1, 2, 3, 4 probes for choice.
Model: RS-WS-*-2-*
MOQ: 1 PCS
Delivery date: within 24 hours
Price: $60.8~156.8
Description
Parameters
Application
FAQ
Description
The multi channel temperature data logger adopts a liquid crystal display and has four types: single probe, double probe, three probe, and four probes. Each probe cable can be up to 30 meters long. One product extends four probes to simultaneously measure and record the temperature and humidity of four devices and upload them to the free platform. Greatly save costs and reduce deployment. This multi probes temperature humidity data logger has an alarm function, which supports customers to manually calibrate and adjust the upper and lower limits of temperature and humidity.
Other data loggers for choose: wifi temperature and humidity data logger, rs485 temperature and humidity data logger, small wifi data logger, COS03 temperature data logger, COS04 temperature data logger.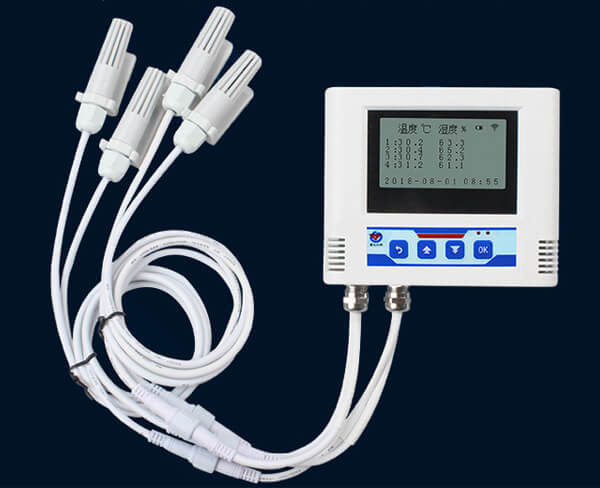 Multi

channel temperature humidity sensor features:
Signal stability
This multi channel data logger uses wifi signal to upload data, supports intra-LAN communication and cross-gateway wide area network communication. Support two communication methods: active reporting and collection.
Offline recording
This wifi multi channel data logger has an offline recording function and supports two power supply modes: 220V power and battery. Normally monitor and record data during power outages and network, and automatically report to the monitoring platform after going online.
Mass storage
The multi-channel temperature sensor can store up to 65,000 records at a time. The storage record can be cleared, and after clearing, it can be stored normally again.
Exquisite appearance
High-strength white shell, with large-screen LCD. Beautiful and generous.
Adjustable
The Wifi multi probe temperature and humidity data logger is equipped with a button function, the user can directly adjust the alarm parameters, temperature and humidity parameters, etc. Or through 485 software, remote configuration parameters.
Free platform
To purchase our company's sensors, you can use our company's local monitoring software platform or environmental monitoring cloud platform (www.0531yun.cn) for free.
Related blogs:
1.Temperature And Humidity Sensor Definition, Calibration, And Top10 Best Choose
2.How To Choose The Best Temperature And Humidity Data Logger?
Parameters
Application
FAQ
Multi channel data logger video
This multi-probe temperature and humidity data logger supports customized services, you can tell us your specific requirements, such as use place, power supply mode, measurement distance, alarm mode, etc. We will recommend the best solution for you.