These UV sensors measure the power or intensity of incident ultraviolet (UV) radiation. UV sensors are used for determining exposure to ultraviolet radiation in a laboratory or environmental setting. It can use photosensitive elements to convert ultraviolet signals into measurable electrical signals through photovoltaic mode and light guide mode.
Model: RS-UV -*-2 UV
MOQ: 1 PCS
Delivery date: within 24 hours
Price: $54.5~$73.6
Description
Parameters
Application
FAQ
Description
About ultraviolet rays sensor:
The circuit of our uv sensor adopts the industrial-grade microprocessor chip imported from the United States and the imported high-precision ultraviolet sensor to ensure the excellent reliability and high precision of the product. The product shell is a wall-mounted high-protection shell, with a protection grade of IP65, which effectively prevents rain and snow. For outdoor use, we offer aluminum uv sensor for you. It is matched with wind speed sensor, wind direction sensor, solar radiation sensor, rain gauge, solar radiation shield, light sensor, rain and snow sensor, soil sensor, etc. to form a complete weather station monitoring system.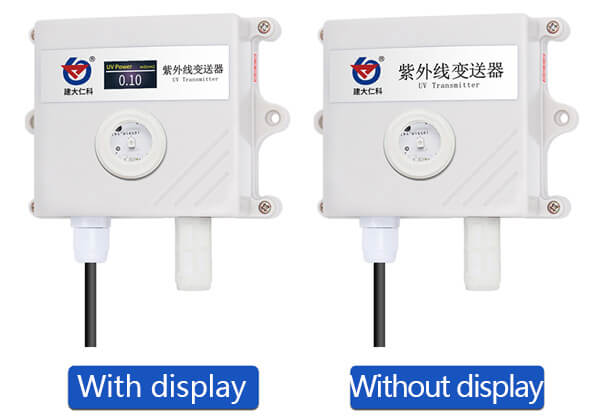 UV sensor features:
1. Adopt the ultraviolet measuring device that is highly sensitive to 240-370 nm to accurately measure the ultraviolet intensity.
2. The see-through window uses high-quality light-transmitting materials, and the ultraviolet transmittance exceeds 98%, which avoids the problem of low ultraviolet measurement values due to the absorption of ultraviolet rays by traditional PMMA and PC materials.
3. Multiple signal output RS485, 0-5V, 0-10V, 4-20mA.
4. Wall-mounted waterproof shell with, high protection level, can be used in outdoor rain and snow environment for a long time.
5.10-30V DC wide voltage power supply.
Parameters
Application
FAQ