This solar radiation sensor or pyranometer is an instrument for measuring solar radiation. It measures the solar energy received from the entire hemisphere (180 degree field of view). Solar radiation varies significantly among regions. Season and time of day are major considerations, but surrounding terrain elevation, man-made obstructions, and surrounding trees can also cause large variations in locations with a small area.
Model: RS-RA-*-AL
MOQ: 1 PCS
Delivery date: within 24 hours
Price: $96.45~$100.6
Description
Parameters
Installation
Description
Solar radiation meter:
RS-RA-*-AL solar radiation sensor adopts photoelectric principle and can be used to measure the total radiation value under sunlight. The radiation sensor uses high-precision photosensitive elements, wide spectrum absorption, high absorption in the full spectrum range, and good stability. A dust cover with a light transmittance of up to 95% is installed outside the sensing element, and the dust cover is specially treated to reduce dust Adsorption can effectively prevent environmental factors from interfering with internal components, and can more accurately measure solar radiation. In order to meet customers' requirements for higher precision, we also provide thermoelectric solar radiation sensor. This solar radiation sensor is usually combined with wind speed sensor, wind direction sensor, rain gauge, rain and snow sensor, solar radiation shield, UV sensor, illumination sensor, soil sensor, etc., to jointly contribute to a complete weather station monitoring system.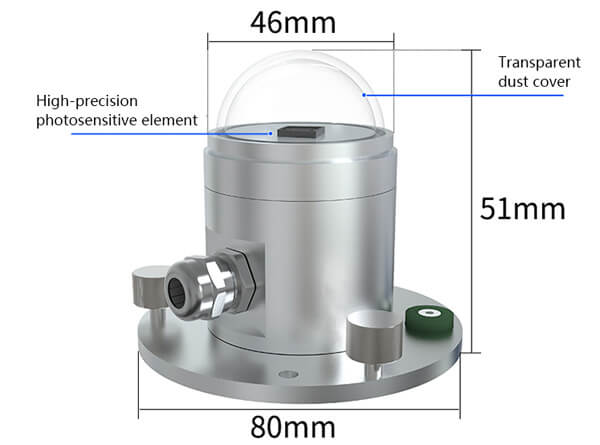 Solar radiation meter features:
1. Using high-precision photosensitive elements, high absorption in the full spectrum range
2. Comes with level meter and adjustment handwheel, convenient on-site adjustment
3. High transparent dust cover, good sensitivity, special surface treatment to prevent dust adsorption
4. Wide voltage power supply DC 7~30V
Parameters
Installation