What is a sunlight sensor? The sunlight sensor is a high-precision light-sensitive transmitter with an output value measurement unit of Lux. An illumination sensor is used for the outdoor measurement of light intensity. The illuminance sensor adopts a wall-mounted waterproof shell. There are two ranges of 0-65535 lux and 0-20 million lux. We provide sunlight sensor and temperature, humidity, sunlight 3 in 1 sensor.
Model: RS-GZ*-*-2
MOQ: 1 PCS
Delivery date: within 24 hours
Price: $19.9~22
Description
Parameters
Application
Description
Illumination sensor:
The RS-GZ*-*-2 solar light sensor is small in size and low in price. It is a product that is very worth buying. It can be combined with wind speed sensor, wind direction sensor, rain gauge, rain and snow sensor, UV sensor, soil sensor, solar radiation shield, solar radiation sensor, etc. to form a complete outdoor weather station monitoring system.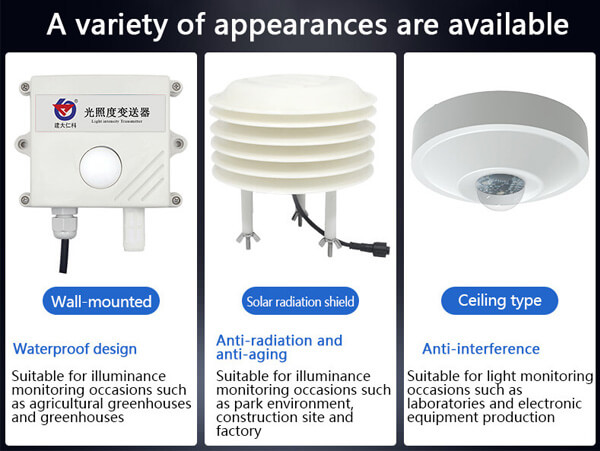 Illuminaion sensor features:
1. High-precision illuminance detection measuring range 0-60000 Lux, 0-200000 Lux optional.
2.4-20mA/0-10V/0-5V/RS485 multiple output signals are optional.
3. IP65 high protection level, can be used in an outdoor or harsh on-site environment.
4.10-30V DC wide voltage power supply.
Related blogs:
1.Smart Farming: IoT In Agriculture
2.Weather Station Spare Parts & Accessories
3.What Is IoT? Top 16 IoT Sensors And Applications
4.Agricultural Environment Monitoring System
5.What Is The Working Principle Of The Illumination Sensor?
6.List Of Agriculture Sensors,Advantages Of Agriculture Sensors
Parameters
Application