In the current society, noise pollution has become the third-largest source of pollution after air and water pollution. To ensure normal rest and sleep, the sound cannot exceed 50 decibels. To ensure work and study, the sound cannot exceed 70 decibels. When the sound reaches 80 decibels, human ears will start to feel uncomfortable. If the sound environment exceeds 120 decibels for a long time, it will cause permanent hearing loss. Therefore, both construction and industrial production need to install standard noise detectors to detect decibels.
The harm of noise also comes from its masking effect. The masking effect of noise refers to the phenomenon that the hearing threshold of one sound is increased due to the presence of one or more other sounds. In industrial production, the masking effect of noise is widespread. This masking effect often prevents the operator from hearing the precursors and warning signals (driving signals, hazard warning signals, etc.) of the accident, resulting in work-related accidents, or misoperation caused by noise masking the command signal can also lead to accidents.
In the factory workshop, the roar of the machine running is the main source of the noise. For example, in the pharmaceutical factory, the noise sources include medicine cutters, fans, crushers, etc., among which the loudness of some high-power fans can reach 120 decibels or more. If workers in the workshop are exposed to high-noise environments for a long time, they will easily cause symptoms such as deafness and tinnitus.
What is industrial noise pollution?
Industrial noise pollution refers to the sound that interferes with the surrounding living environment when fixed equipment is used in industrial production activities. The noise produced by the factory in the production process due to mechanical vibration, frictional impact, and airflow disturbance. For example, the noise generated by air compressors, blowers, and boiler exhaust in chemical plants is all airflow noises caused by air vibration. The noise generated by ball mills, shredders, and looms is due to mechanical noises generated by solid part's mechanical vibration or frictional impact.
Types of industrial noise detectors:
1. Portable noise detectors
This TL-202 portable noise detectors are instruments to measure Sound Pressure Level in decibels (dB). This meter is featured with wide measuring range (30 ~ 130 dB), Bar-Graph Indication, A/C frequency weighting, Fast / Slow response and Maximum Hold function.
Digital display, good anti-interference performance, power saving. With the backlight feature, it is appropriate for gathering sound data at night. Backlight auto power-off function is provided. With power-saving and high-reliability circuit design, a well-design high-efficiency power supply circuit makes the batteries more durable. The composite material injection molding process is adopted for casing with an anti-drop structure design. It is not only extremely wear-resisting but also elegant, It's a mini handheld portable sound level reader.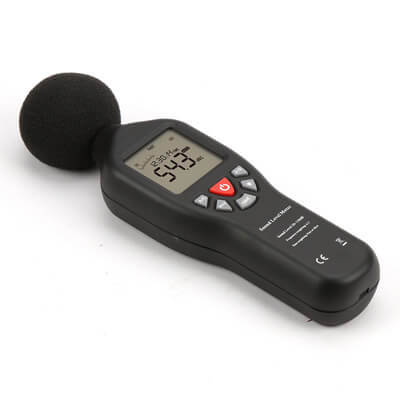 Standard applied: IEC651 type 2, ANSI S1.4 type 2
Calibration sound source: 94dB @ 1kHz
Measurement range: 30~130dBA
Accuracy: +1.5dB(reference sound pressure standard,94dB@1KHz)
Frequency response: 31.5~8.5KHz
Resolution: 0.1dB
Frequency weighting: A/C
Analogy bar graph: 2dB/1 Bar graph
Display update time: 2 times/second (FAST), 1 time/second (SLOW)
AC signal output: 20mVrms/full barograph,, output impedance is approx 600 ohm
DC signal output: 33mV/dB
Sampling rate: FAST (125ms / SLOW (1s)
Power supply: 6V 
This is a portable, easy to use and handy instrument for sound quality control in offices, homes, schools, and construction sites. The noise detectors have a wide range of applications such as noise pollution studies, research, and other industrial use.
2. Long rod noise detectors
The RS-ZS-*-FL noise sensor is a high-precision sound measuring instrument with a range up to 30dB~120dB. It uses a high-sensitivity condenser microphone with stable signal transmission and high accuracy. It has the characteristics of a wide measuring range, good linearity, easy installation and long transmission distance. All 304 stainless steel material, no fear of wind and rain. There are three output modes: TTL, RS485 and analog output. This noise detector can effectively meet the daily industrial measurement needs.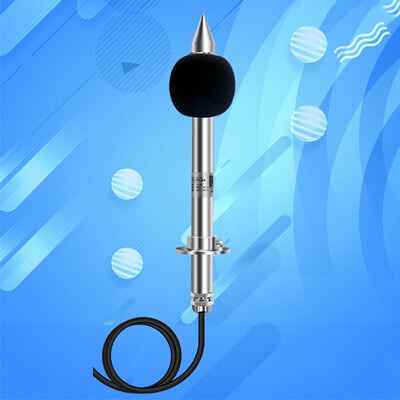 Power supply: 10~30V DC
Power: 0.1W
Output signal: TTL/RS-485/4-20mA/0-5V/0-10V
Measuring range: 30dB~120dB
Resolution: 0.1dB
Noise accuracy: ±0.5dB
Frequency range: 20Hz~12.5kHz
Response time: ≤3s
The long rod noise detectors are exquisite in appearance and easy to use, so it is widely used in various fields such as home, office, workshop, automobile measurement, industrial measurement and so on.
The RS-ZS-*-* wall-mounted noise sensor working principle is a built-in sound-sensitive capacitive electret microphone. The electret face is opposite to the back electrode, and there is a very small air gap in the middle, forming an air gap. It is used as an insulating medium with the electret, and the back electrode and the metal layer on the electret are used as two electrodes to form a flat capacitor. There is an output electrode between the two poles of the capacitor. Because there are free charges distributed on the electret film. When sound waves cause the electret film to vibrate and produce displacement; the distance between the two plates of the capacitor is changed, which causes the capacitance of the capacitor to change. Because the number of charges on the electret always remains constant, according to the formula: Q=CU, Therefore, when C changes, it will inevitably cause a change in the voltage U at both ends of the capacitor, thereby outputting an electric signal, and realizing the conversion from a sound signal to an electric signal.
This wall-mounted noise detectors are made of ABS waterproof and dustproof material as a whole, which can continuously monitor the noise situation of a certain place for a long time. Multiple sensors can be installed in different places and centrally monitored through a platform.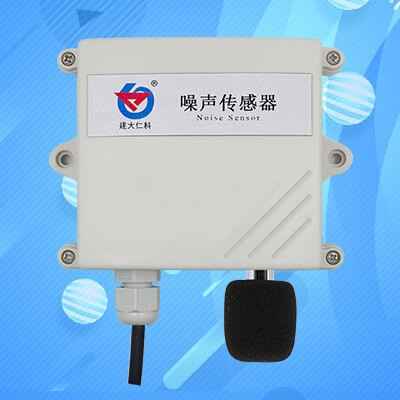 DC power supply: 10~30V DC
Power: 0.4W
Output mode: RS485/4-20mA/0-5V/0-10V
Resolution: 0.1dB
Measuring range: 30dB~120dB
Frequency range: 20Hz~12.5kHz
Response time: ≤3s
Stability: less than 2% in the life cycle
Noise accuracy: ±0.5dB
The price of this noise detectors are cheap, and it is often used in industrial parks, campuses, residential buildings and other places with a relatively large monitoring range.
RS-ZS-*-BYH noise sensor is an outdoor noise detection equipment used with a weather station monitoring system. Its shell is a high-strength solar radiation shield, with a protection level of IP68, which can effectively prevent rain and snow, but also resist ultraviolet rays, so it can be installed outdoors or used in harsh environments for a long time. The parameters of this outdoor noise sensor are the same as the wall-mounted noise sensor, but in order to adapt to the long-term outdoor harsh environment, the shell has been upgraded and it has become a professional outdoor noise sensor.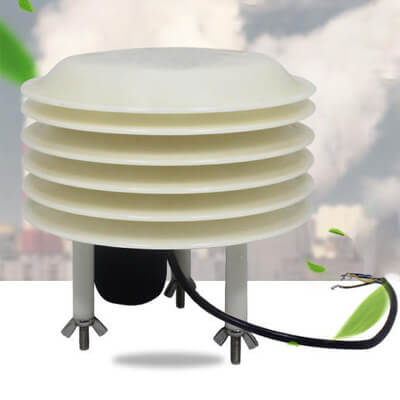 DC power supply: 10~30V DC
Power: 0.4W
Output mode: RS485
Resolution: 0.1dB
Measuring range: 30dB~120dB
Frequency range: 20Hz~12.5kHz
Response time: ≤3s
Stability: less than 2% in the life cycle
Noise accuracy: ±0.5dB
This noise detectors can be used with weather stations and can be used in outdoor working environments such as industrial buildings and engineering maintenance.