Small wifi temperature data logger
The RS-WS-WIFI-C4 small wifi temperature data loggers can be collect and upload datas to the free WeChat device platform provided by our company through the WIFI. The data loggers WIFI adopts AirKiss technology, which can realize one-key network distribution and easy networking. The wireless data loggers adopt imported high-precision sensors with high sampling accuracy.
Model: RS-WS-WIFI-C4
MOQ: 1 PCS
Delivery date: within 24 hours
Price: $43~$58.7
Description
Parameters
Application
Benefits
Description
This small wifi temperature data logger uses a pure white abs waterproof case with a simple and beautiful design. Use wireless transmission to avoid wiring troubles. Real-time monitoring of temperature and humidity data and upload. 
In addition to this small wifi data logger, we also have a wifi temperature and humidity recorder, rs485 temperature and humidity recorder, cos03 temperature and humidity datalogger, cos04 temperature and humidity datalogger, multi-channel temperature humidity data logger, etc.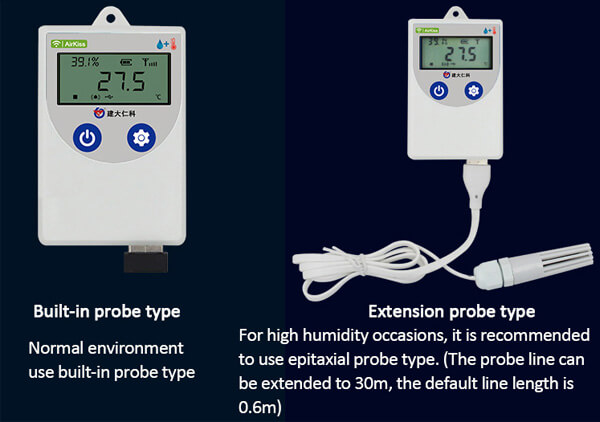 Small wifi temperature data loggers features:
1. Use high-quality imported temperature and humidity sensors for temperature and humidity data measurement.
2. Adopt WIFI wireless transmission, and easily upload data online with the help of an on-site network.
3. Free WeChat platform management equipment, real-time view data.
4. The data logger automatically caches data when communication is disconnected, and automatically uploads data when communication resumes. The cached data can reach 1,000.
5. The wifi temperature recorder uses a low-power LCD screen, which can check the temperature and humidity in real-time on-site.
6. The device has a built-in buzzer to achieve ultra-high and low-temperature alarms.
7. The mini data loggers have a built-in large-capacity lithium battery that can be powered by a built-in battery or an external power supply
8. Real-time push of temperature and humidity over WeChat.
9. Adopt AirKiss WIFI networking technology, easy one-key networking.
Related blogs:
1.Temperature And Humidity Sensor Definition, Calibration, And Top10 Best Choose
Parameters
Application
Benefits
Small wifi data logger video
This small wifi temperature and humidity data logger has two types of probes: a built-in probe and an external probe. The external probe can be placed in water, freezer, cold storage, and other special environments, and the accuracy of the external probe is higher than that of the built-in probe.