This single gas monitor is an environmental gas concentration monitor independently developed by our company. It is used to detect the gas concentration parameters in the air environment. When the concentration exceeds the preset alarm value, it will emit sound and light. Alarm signal to remind users to take safety measures in time to prevent explosion and poisoning accidents.
Model: RS-*-*-N01-C
MOQ: 1 PCS
Delivery date: within 24 hours
Price: $54.5~$234.6
Description
Parameters
Application
Gas
Description
About single gas monitor:
This smart gas monitor adopts remote infrared remote control technology, and the parameters can be modified without disassembly. With exquisite appearance, it can be used in indoor or office environments. Using RS485 signal output, the measurement value is more accurate. This single gas detector has a variety of gas options and is easy to use.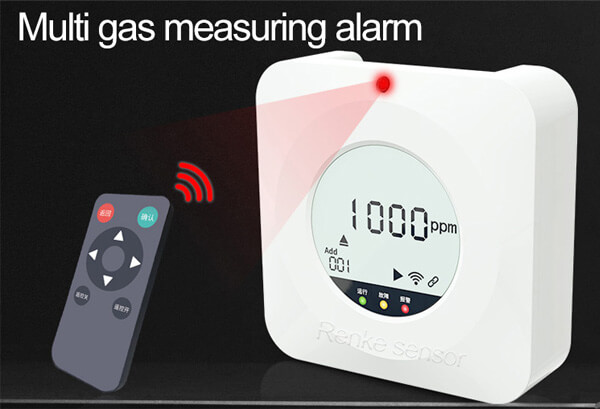 Gas monitor features:
1. Adopt first-line electrochemical sensors of major brands, stable and durable.
2. Support a variety of gas detection, and the range can be customized.
3.485 communication interface standard Modbus-RTU communication protocol, address, and baud rate can be set, the communication distance is up to 2000 meters
4. High-quality LCD screen, the value can be directly viewed on site.
5. On-site power supply adopts a 10~30V DC wide-voltage power supply, which can adapt to a variety of on-site DC power supplies.
6. The product adopts a wall-mounted shell, which is easy to install.
Related blogs:
1.8 Best Industrial Gas Leak Detectors Of 2021
2.How Do You Use A Smart Gas Monitor?
Parameters
Application
Gas
This gas monitor has an LCD liquid crystal display, which can display the gas concentration in real-time, and the measurement data can be uploaded to the cloud platform. With the remote control function, the device parameters can be modified through the remote control. Once the gas concentration is detected to exceed the standard, it will send out an audible and visual alarm signal. The installation is simple and the product is exquisite.