4 gas detector is a portable gas analyzer that can measure four gases at the same time. It is generally used to detect oxygen, hydrogen sulfide, carbon monoxide and combustible gases. This multi gas detector shell is made of high-strength engineering plastics and composite non-slip rubber, with high strength and good hand feeling. It waterproof, dustproof, and explosion-proof.
Model: RS-MG41-1
MOQ: 1 PCS
Delivery date: within 24 hours
Price: $108.9~$137.7
Description
Parameters
Application
FAQ
Description
Best multi gas detector for you recommend:
RS-MG41-1 is a portable multi gas detector developed by our company for explosive or toxic environments. The working principle of this gas detector is to detect gas by natural diffusion, and it has built-in electrochemical and combustion gas sensors, which have excellent sensitivity and excellent repeatability. It can detect four kinds of gases: oxygen, combustible gas, carbon monoxide, and hydrogen sulfide.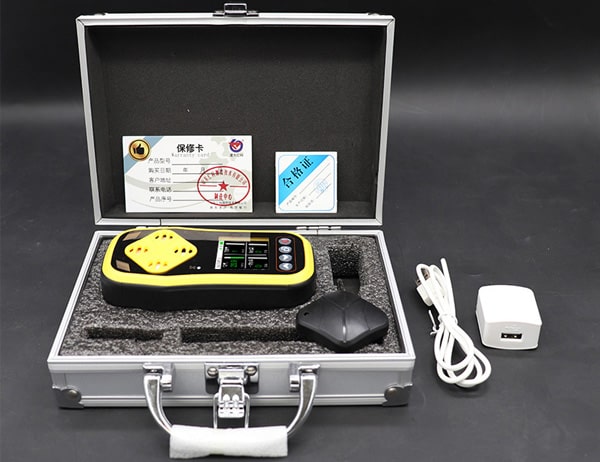 RS-MG41-1 4 gas analyzer can store up to 130,000 test data and can view historical data at any time with the software. This wireless gas detector is simple to use and easy to maintain, meeting the requirements of industrial safety for testing equipment.
Features of 4 gas detector:
1. The RS-MG41-1 4 in 1 gas detector shell has high strength and belongs to an intrinsically safe explosion-proof product.
2. High-definition color screen design, easy to check the gas status.
3. High and low limit alarm values can be set.
4. Full-featured self-test, the RS-MG41-1 adopts three-alarm functions of sound, light, and vibration.
5. Shortcut keys to quickly turn on and off the sound alarm and storage mode.
6. Large-capacity battery, the device can be used continuously for at least 8 hours in the always-on mode.
Parameters
Application
FAQ
This portable four-in-one gas detector adopts the diffusion working principle, you can use the buttons to manually adjust the alarm value, measurement range, alarm mode, and other parameters. Equipped with a suitcase, you can carry it with you to measure the gas concentration in different locations.