RS-CO-*-2 carbon monoxide sensor is an industrial gas sensor, which is mostly used in industries, buildings, mines, and other places. The co sensor measuring range is 0-1000ppm and 0-2000ppm for optional, other ranges can be customized. The output mode of this co sensor is 0-5v, 0-10v, 4-20ma, rs485. The carbon monoxide sensor price:
Model: RS-CO-*-2
MOQ: 1 PCS
Delivery date: within 24 hours
Price: $41.9~$56.6
Description
Parameters
Application
FAQ
Description
About carbon monoxide sensor:
This industrial carbon monoxide sensor adopts an imported big brand electrochemical carbon monoxide sensor with high measurement accuracy. Carbon monoxide gas is relatively light and generally concentrated on the top. This co2 sensor is wall-mounted, and the installation height can be adjusted. The shell is made of high-strength waterproof and dustproof material, which can work normally in harsh environments. With our free cloud platform, unified monitoring of multiple locations can be realized. In addition, we also have fixed co detector, duct types co sensor, smart co monitor and other types.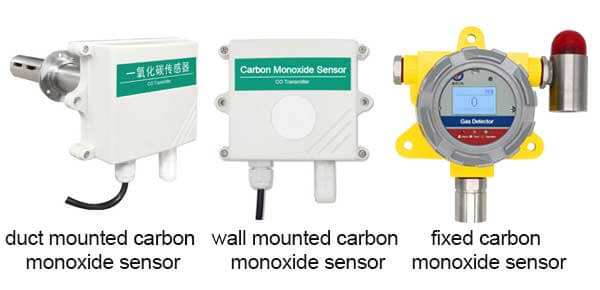 Best co sensor:
1. The carbon monoxide sensor has a wide measurement range and high measurement accuracy, which can reach within ±3% FS, and the repeatability can reach within 2%.
2. Optional high-quality OLED display, the value can be viewed directly on-site, and can be displayed clearly at night.
3. On-site power supply adopts a 10~30V DC wide-voltage power supply, which can adapt to a variety of on-site DC power supplies.
4. Convenient installation, long service life, and can be used for 5 years in a normal environment.
Related blogs:
1.What Is Carbon Monoxide Sensor Working Principle?
2.What Are The Types Of Industrial Gas Sensors?
Parameters
Application
FAQ
Carbon monoxide sensor video
This wall-mounted carbon monoxide sensor has two-measure ranges of 0~1000ppm and 0~2000ppm. It can measure temperature and humidity at the same time and can add an LCD display for real-time display of data. Support customization and secondary development.