It is a diffusion ozone meter to measure the concentration of ozone gas. It uses an electrochemical gas sensor with excellent sensitivity and excellent repeatability. The stored data of this ozone gas detector is up to 100,000, and historical data can be checked at any time. This is a cheap ozone gas detector with a measuring range of 0~10ppm, which is worth buying.
Model: RS-MG41-O3
MOQ: 1 PCS
Delivery date: within 24 hours
Price: $127.7
Description
Parameters
Application
FAQ
Description
About portable ozone meter:
This handheld ozone detector is equipped with a suitcase for users to carry. Automatic detection after 1 minute of starting up, simple operation and convenient maintenance, meeting the requirements of industrial safety monitoring for equipment reliability. The language adopts all English, the user can automatically set the upper and lower alarm limits, and supports various other parameter settings. The shell of the ozone detector is made of high-strength engineering plastics and composite non-slip rubber, which has a good hand feel, anti-drop, and can effectively prevent dust.
For customers who need to detect ozone concentration, we also provide other ozone sensors suitable for different places, such as wall-mounted ozone sensor, duct type ozone sensor, fixed ozone detector, smart ozone monitor and many other types.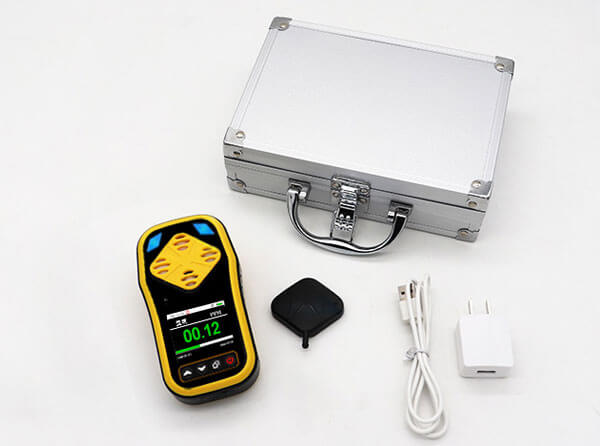 Features of portable o3 detector:
1. High-definition color screen design, the gas value can be seen clearly in a dim environment.
2. Different high and low limit alarm values can be set according to different places of use.
3. Full-featured self-test, the product adopts three alarm modes of sound, light, and vibration.
4. Shortcut keys to quickly turn on and off the sound alarm and storage mode.
5. Large-capacity battery, the device can be used continuously for at least 8 hours in the always-on mode.
Parameters
Application
FAQ
This handheld ozone detector is equipped with a portable suitcase, which can be carried with you for ozone detection in different locations. Supports manual modification of multiple parameters such as alarm mode, time, and alarm value. Work continuously for 8 hours after the class is fully charged and long standby time.
Other popular gas sensors