RS-O3-*-2-* ozone sensor is a device suitable for long-term monitoring of ozone gas content in fixed places. Install multiple devices in different locations, and the data can be uploaded to the free cloud platform provided by our company to realize remote unified monitoring. Our ozone sensor has a simple layout, easy installation, and low price.
Model: RS-O3-*-2-*
MOQ: 1 PCS
Delivery date: within 24 hours
Price: $98.1~127.7
Description
Parameters
Application
FAQ
Description
High quality ozone sensor:
The working principle of the ozone sensor is electrochemistry. This wall mounted ozone sensor can achieve 24-hour long-term detection. The shell adopts a waterproof and dustproof structure, which can be used in harsh environments. The ozone sensor measuring range has 0-10ppm and 0-100ppm two types. We provide customized services for other special needs of users. The measurement accuracy of the ozone sensor is ±6%FS. In addition, our company has a variety of types such as portable o3 detector, duct type o3 sensor, smart o3 monitor, and fixed o3 detector.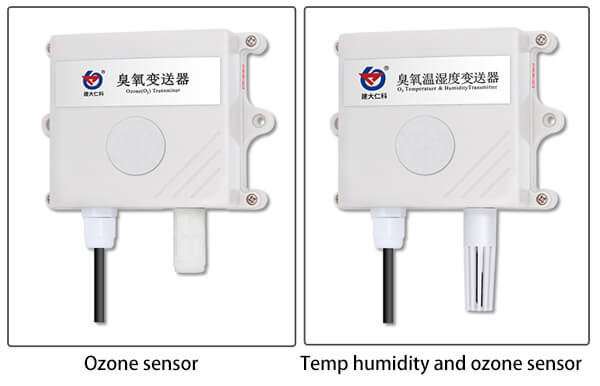 Ozone sensor feature:
1. The o3 sensor adopts a high-sensitivity gas detection probe imported from the United States and uses a high-performance signal acquisition circuit, which can accurately measure the PPM-level O3 concentration, with stable signal and high accuracy.
2. Provide RS485, 0-5V, 0-10V, 4-20ma multiple output signals.
3. The o3 sensor adopts a wall-mounted waterproof shell, which is easy to install and has a high degree of protection.
Related blogs:
1.8 Best Industrial Gas Leak Detectors Of 2021
3.What Are The Types Of Industrial Gas Sensors?
Parameters
Application
FAQ
There is an external temperature and humidity probe at the bottom of this ozone sensor, which can measure temperature, humidity and ozone at the same time. It uses the free cloud platform provided by our company to view data. Multiple devices can be monitored simultaneously under one account. Both mobile and computer terminals can be monitored.